MQ2 Analog Gas Sensor Brick(EF04028)
37.

MQ2 Analog Gas Sensor Brick(EF04028)#
37.1.

Introduction#

The analog gas sensor MQ2 is used in gas leakage detecting equipments in consumer and industry markets, this sensor is suitable for detecting LPG, i-butane, propane, methane ,alcohol, hydrogen, smoke. It is of high sensitivity and fast response, the sensitivity can be adjusted by the potentiometer.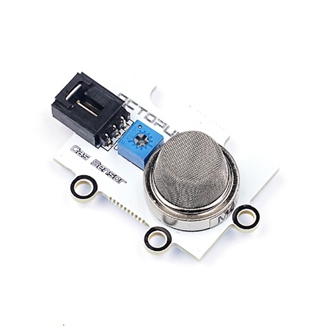 37.3.

Characteristics#

Standard 3-pin GVS port is easy to plug.
37.4.

Specification#
| Item | Parameter |
| --- | --- |
| SKU | EF04028 |
| Connections Type | Analog |
| Pins Definition | S-Sigal V-VCC G-GND |
| Working Voltage | 5V |
| Size | 38x27mm |
Size:
37.5.

Outlook and Dimension#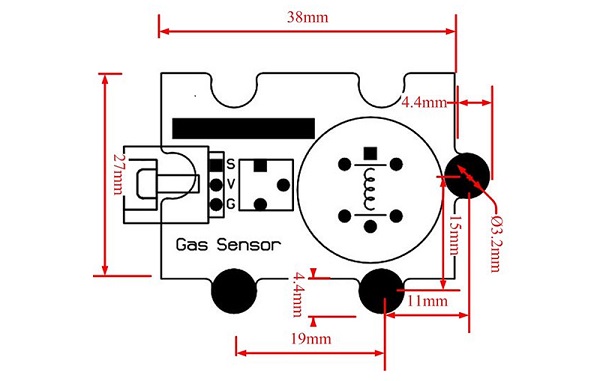 37.6.

Quick to Start#
Materials required and connections diagram#
Connect to P1 port as the picture shows.
Take sensor:bit for example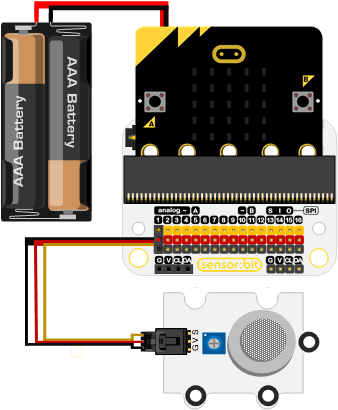 Program as the picture shows#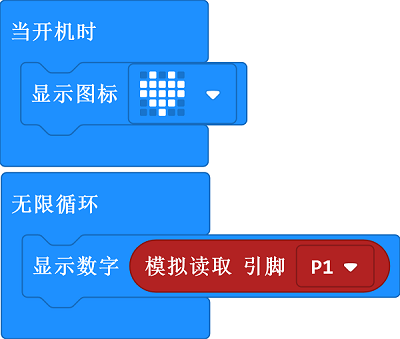 Result#
Preheat it for 10 minutes after connections, detect the smoke by approaching the probes to the smoke while the returned value is almost stable. With the change of the smoke, the returned value gets bigger with the growing of the smoke concentration.